29.11.2022. Synology je ponudi novo ažuriranje za svoj DSM 7 SMB paket. Ova verzija 4.15.9 uključivat će prethodno najavljenu SMB višekanalnu (multichannel) značajku nedavno spomenutu tijekom 2023 & beyond prezentacije.
Ovaj je paket još uvijek u beta fazi i bit će mu dostupan putem beta kanala unutar Package Center-a. Iako je najavljeno da će ova značajka stići u DSM 7.2, bilješke pokazuju da će raditi i na DSM 7.1.1 verziji.
Ispod su napomene o izdanju i popis kompatibilnosti za ovu verziju, a u budućnosti ću dodati rezultate testova kada oni budu dovršeni.
💡
VAŽNO: Ovo je beta verzija SMB paketa! Ne postoji mogućnost vraćanja na stariju verziju, samo X86 modeli podržavaju SMB3 višekanalnu značajku, a File Station CIFS Mount ne podržava SMB3 višekanalnu značajku!
---
Please read the following before installing this beta software
For evaluation only - This beta software is for evaluation purposes only and should not be installed on critical equipment or in production environments. We strongly recommend reading the Release notes section before installing it. Synology cannot be held responsible for any damages, such as accidental data loss, caused by this beta software.
Not downgradable - After installation of this beta application, you will not be able to downgrade to a previous official version of this software.
To install the beta software on your Synology NAS
Log in to DSM using an account belonging to the administrators group.
Open Package Center.
Now you should be able to find and install packages that currently have a beta version available and compatible with your Synology NAS for public testing.
Remember to click from Installed > Feedback to help us out and report any issues or suggestions.
Applied Models
FS-series:FS6400, FS3600, FS3400, FS3017, FS2017, FS1018, FS3410, FS2500
HD-series:HD6500
SA-series:SA3600, SA3400, SA3200D
23-series:DS923+
22-series:RS822RP+, RS822+, RS422+, DS3622xs+, DS2422+, DS1522+, DVA1622
21-series:RS4021xs+, RS3621xs+, RS3621RPxs, RS2821RP+, RS2421RP+, RS2421+, RS1221RP+, RS1221+, DS1821+, DS1621xs+, DS1621+, DVA3221
20-series:RS820RP+, RS820+, DS1520+, DS920+, DS720+, DS620slim, DS420+, DS420j, DS220+, DS220j, DS120j
19-series:RS1619xs+, RS1219+, RS819, DS2419+II, DS2419+, DS1819+, DS1019+, DS419slim, DS119j, DVA3219
18-series:RS3618xs, RS2818RP+, RS2418RP+, RS2418+, RS818RP+, RS818+, DS3018xs, DS1618+, DS918+, DS718+, DS418, DS418play, DS418j, DS218+, DS218, DS218play, DS218j, DS118
17-series:RS18017xs+, RS4017xs+, RS3617xs+, RS3617RPxs, RS3617xs, RS217, DS3617xsII, DS3617xs, DS1817+, DS1817, DS1517+, DS1517
16-series:RS18016xs+, RS2416RP+, RS2416+, RS816, DS916+, DS716+II, DS716+, DS416, DS416play, DS416slim, DS416j, DS216+II, DS216+, DS216, DS216play, DS216j, DS216se, DS116
15-series:RS815RP+, RS815+, RS815, RC18015xs+, DS3615xs, DS2415+, DS2015xs, DS1815+, DS1515+, DS1515, DS715, DS415+, DS415play, DS215+, DS215j, DS115, DS115j
14-series:RS3614xs+, RS3614RPxs, RS3614xs, RS2414RP+, RS2414+, RS814RP+, RS814+, RS814, RS214, DS414, DS414slim, DS414j, DS214+, DS214, DS214play, DS214se, DS114
13-series:RS10613xs+, RS3413xs+, DS2413+, DS1813+, DS1513+, DS713+, DS213j
Compatibility & Installation
SMB Service 4.15.9 requires DSM 7.1.1 or above.
Important Notes
Please note that currently the SMB3 Multichannel function only supports x86 platforms. For models in x86 platforms, please refer to all models listed in this article.
You cannot downgrade to a previous version once you have installed SMB Service 4.15.9.
If you have installed Synology Directory Server, it will be automatically updated to version 4.15.9 when you update SMB Service to version 4.15.9. You cannot downgrade Synology Directory Server to a previous version once it has been updated.
The update is expected to be available in all regions and models within the next few days. The actual time of release may vary slightly depending on the region and model.
What's New
Updated Samba to version 4.15.9.
Added the SMB3 Multichannel function. This function allows users to take full advantage of the network bandwidth by using multiple connections between the client and server, providing increased throughput and network fault tolerance. Please note that currently the SMB3 Multichannel function only supports x86 platforms. You can enable this function at Control Panel > File Services > SMB > Advanced Settings > Others.
Fixed Issues
Fixed an issue where Spotlight search on macOS 13 could not function properly.
Minor bug fixes.
---
Konfiguracija
Prije nego što krenete ovim putem, imajte na umu da je ovo još uvijek u beta verziji u vrijeme pisanja, stoga ga NEMOJTE implementirati na svoje produkcijske jedinice! Pročitajte gornje bilješke!
Za to postoji nekoliko preduvjeta:
DSM 7.1.1. ili noviji
Paket SMB 4.15.9 instaliran iz beta streama Centra za pakete.
Da bismo mogli vidjeti sam paket, prvo moramo aktivirati beta stream unutar Package Center-a, a zatim instalirati SMB paket.
Otvorite Centar za pakete i u gornjem desnom kutu nalazi se gumb Settings. Ispod kartice General na dnu odaberite Yes, I want t osee beta versions! opcija.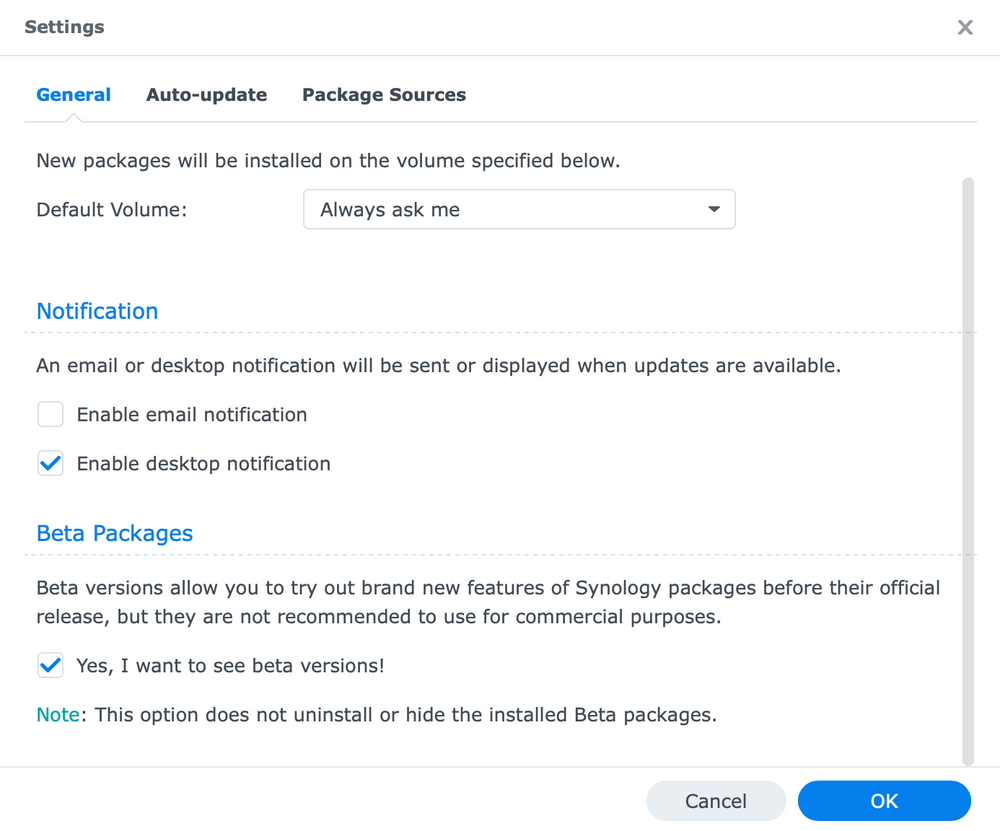 Pritisnite OK kada ste gotovi. Sada, ponovno u Centru za pakete, bit će novi odjeljak Beta. Unutar njega trebali bismo vidjeti sve pakete koji su spremni za instalaciju.
Pronađite SMB paket i instalirajte ga.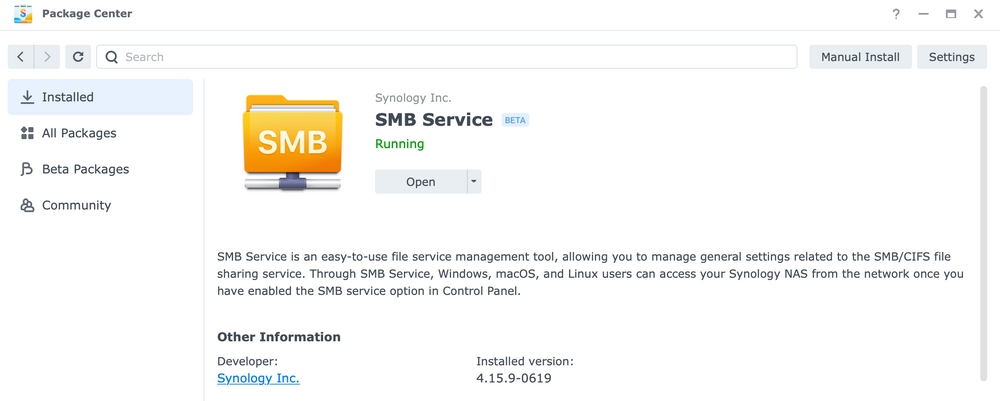 💡
NAPOMENA: Instaliranjem ove verzije SMB-a nećemo se moći vratiti na onu koja je bila prije bete!
Sada kada imamo instaliran paket, vrijeme je da ga konfiguriramo za višekanalni rad. Idite na Control Panel > File Services. Ispod kartice SMB trebao bi se nalaziti gumb Advanced Settings.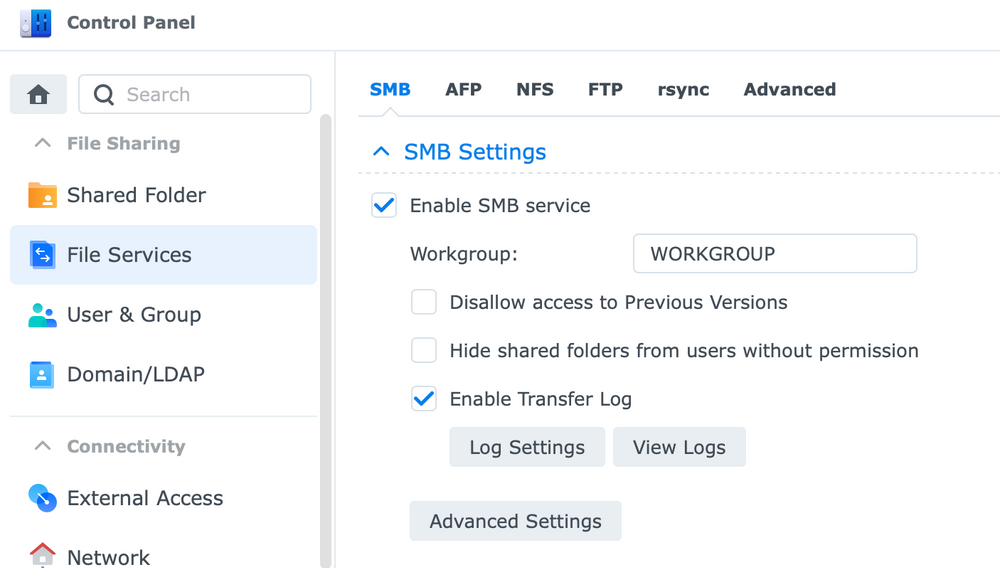 Provjerite je li verzija konfigurirana za SMB3, a na kartici Others, pri dnu omogućite Enable the SMB3 multi-channel feature.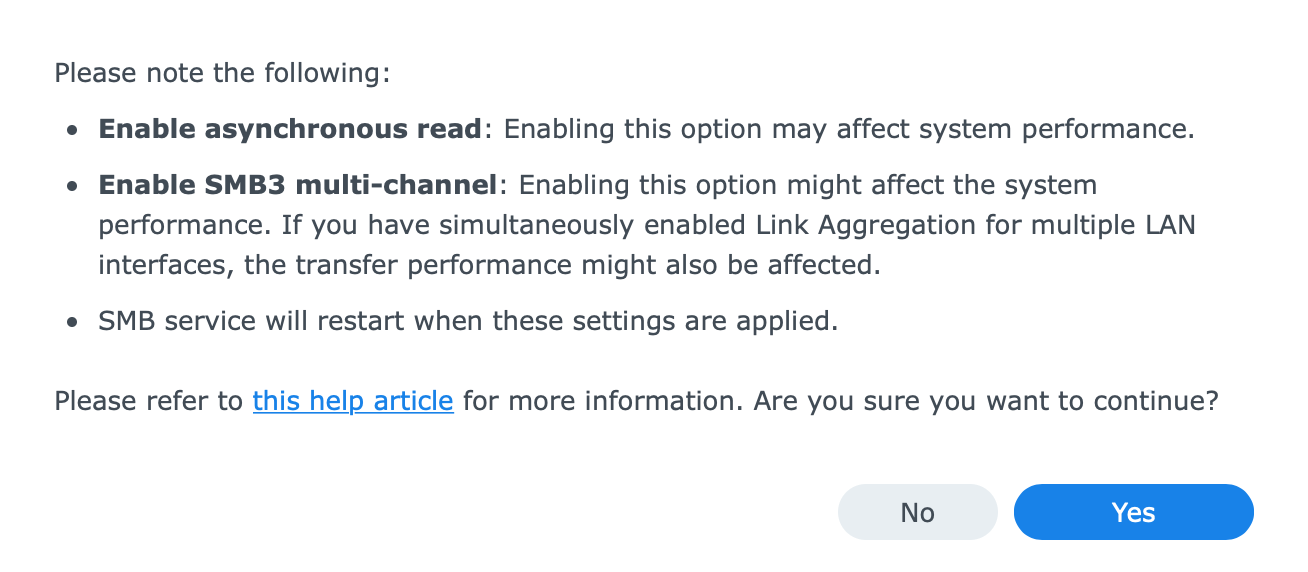 Provjerom DSM SMB CONF datoteka možemo vidjeti da je postavka na snazi:
root@DS923:/etc/samba# cat smbinfo.conf

[global]
        follow symlinks=yes
        server multi channel support=yes
        aio read size=1
        server signing=Disabled
        syno catia=yes
        smb2 leases=yes

Sada provjerite jeste li uključili više mrežnih kabela i jesu li sve strane koje sudjeluju u prijenosu imale aktivan SMB multi-channel.
Testiranje
Proveo sam veći dio današnjeg dana (6. prosinca) testirajući ovu funkcionalnost. Za sada mogu reći da prijenosi s NAS-a na NAS ne iskorištavaju prednosti multichannel-a.
S DS923+ i DS723+ na najnovijoj verziji DSM-a i konfiguriranim višekanalnim SMB-om, testiranje je obavljeno preko 1G mrežnog switcha, a osim vrlo velikih brzina od 117+ MB/s, nkada nije iskorišten multichannel.
Test je izvršen pomoću remote mount funkcije unutar File Station-a.
Isto se dogodilo prilikom testiranja 10G sposobnog NAS-a pomoću 10G switcha. Opet, nema višekanalnih prijenosa.
💡
AŽURIRANJE: 12.8.2022. - Evo službenih informacija o File Station-u, njegovoj podršci za SMB3 i trenutnom stanju višekanalne podrške.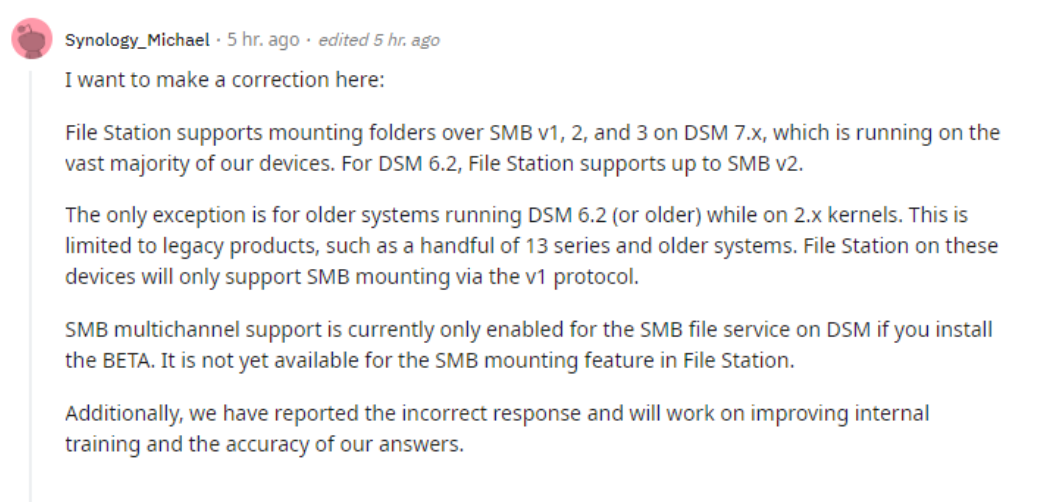 Dakle, File Station podržava SMB 3 na DSM 7 i SMB 2 na DSM 6 sustavima. Trenutačno multichannel nije podržan u trenutnoj beta verziji.
Nadamo se da će ovo biti implementirano u nekom trenutku tijekom nove beta verzije, ili će biti dostupno do trenutka kada SMB paket dođe u fazu produkcije.

Do sada nisam mogao testirati nijednog "stolnog" klijenta jer moj 10G switch radi s 1G ili 10G brzinama po priključku, tako da nijedan 2,5G ili 5G USB na ETH adapter nije otkriven izvan 1G. Trenutačno nemam 2,5 ili 5G switcheve jer većinu svojih postavki izvodim u 10G načinu rada. Nažalost, stolno računalo koje trenutno imam nema 10G (budući da je adapter oko 200 €), ali uskoro će ga ionako zamijeniti model koja podržava 10G.